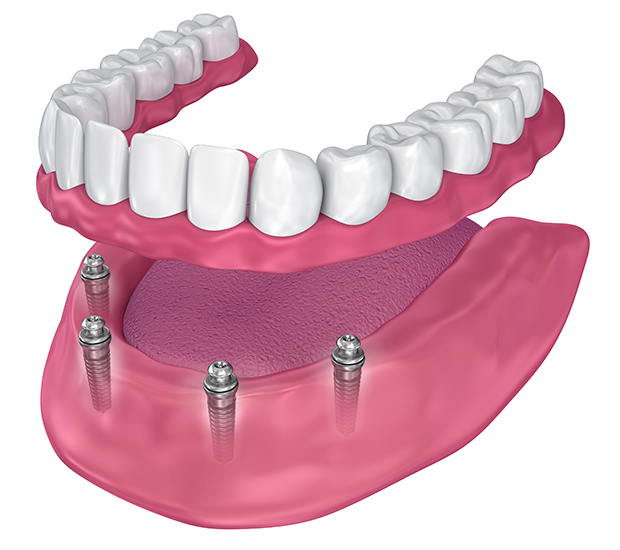 All-on-4 Implants
Staten Island, NY
Dr. Vlad Shikhmanter offers All-on-4® dental implants in Staten Island. This treatment option provides you with a fixed solution when you are missing all of your teeth on the upper or lower arch. To find out if you are a good candidate for dental implants, contact our office today and schedule a consultation.
DOWNLOAD OUR DENTAL IMPLANT PRICING & INFORMATION GUIDE
Fill out the form below and we will email/text you the guide along with a $350 savings offer!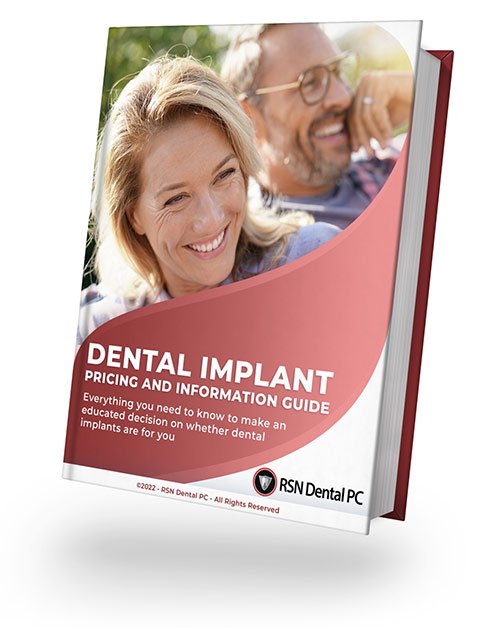 THE GUIDE WILL SHOW YOU

Dental Implant Options
Average Pricing
Factors That Affect Eligibility
And More…
You Don't Have to Live With Tooth Loss
There are distinct advantages to living in the modern world. One of these, from the dental perspective, is the ability to live without the stigma and challenges of tooth loss. According to the Periodontic Association of America, roughly 175 million people, of all ages, have lost one or more teeth and this number is actually expected to grow larger over time. What this has done is spurred growth in the replacement tooth industry and the revolution of dental implants. Implants are a way to get the most natural looking and behaving replacement teeth. However, the standard implant procedure is not always physically viable or convenient. In this situation, the All-on-4® procedure can be a better solution.
What Are All-on-4® Dental Implants?
All-on-4 is a revolutionary treatment option that allows our dentist to place implants in your mouth in less time and with local anesthesia. Four dental implants are placed into the jaw of the upper or lower arch. If you are missing all of your teeth on the top and bottom of your mouth, these implants can be placed in both on the same visit. Once the implants heal, Dr. Shikhmanter can screw your dentures to the posts, which creates a fixed solution. By fixed solution, we mean your dentures will stay in place while you eat and talk without the aid of denture adhesive.
Who Should Get All-on-4®?
The simple answer is that anyone who has lost teeth and wants to have a permanent good-looking set of replacement teeth will benefit from dental implants. The All-on-4® systems offer people a chance to live a full and healthy lifestyle by replacing the teeth with implants over removable dentures. The ideal candidate for All-on-4® implants is someone who already wears dentures or is already missing multiple teeth. Additionally, this is an ideal procedure for someone that does not have the bone density to support a full set of individual implants, the time to have individual implants placed, or the budget to pay for them. The All-on-4® procedure is faster and more affordable.
Who Should Get All-on-4®?
There are several ways in which All-on-4® implants are better than dentures. Patients take care of All-on-4® implants in the same way they care for their natural teeth by brushing each day. The implants also operate in the same way as natural teeth, so the patient does not have to be cautious of what he or she eats. Along with the fact that patients do not have to remove All-on-4® implants when eating or cleaning the teeth, there is also no need for uncomfortable wires or brackets to hold the implants in place. Even more importantly for patients, the dental implants allow anyone to eat what the heart desires. You do not have to worry about hot or cold affecting your dentures. You also can bite down with up to 70 percent more force, which allows you to eat the foods that you love. Finally, All-on-4® implants look exactly like your natural teeth. No one will be able to tell that you are wearing a dental prosthetic. From a dental health perspective, it is important to note that when you have All-on-4® implants, it is going to prevent bone deterioration in the jawbone and ultimately restore your facial features by fighting resorption. The process of resorption involves the implants stimulating the jaw to send a message to the body that the jaw is supporting teeth once again. Resorption will help the jawbone to regain some of the mass that it has lost previously. Many of our patients who visit our office notice a difference in their facial structure as a result.
The Success of the All-on-4® Procedure in Our Staten Island Dental Office
The Oral and Maxillofacial Associates state that All-on-4® implants have a success rate of 98 percent. With All-on-4® implants, patients have a 98 percent probability of leaving our Staten Island offices with a perfect set of teeth that are permanently attached to your jawbone. To discuss how successful the procedure may be for you, call (347) 344-5806.
The Process of Getting All-on-4® at RSN Dental PC
Typically, the surgery takes approximately two hours and 30 minutes per arch. We can install your All-on-4® implants on your upper, lower, or both arches at the same time. While a dentist may make the process look easy, the surgery is a complex procedure that we can complete at an efficient pace. The process of getting All-on-4® implants can be laid out in four steps:
The first step: A detailed examination where we will look at your records, existing conditions, whether you have a denture, what your facial structure needs are, and any other factors that may come into play when placing your implants.
The second step: Typically involves CT scans, which are 3D pictures, of the jawbone. The scans include the positions of the replacement teeth, while also giving us critical information about where the bone sinuses and nerves are located for the implants.
The third step: Involves creating a computer simulation of the implants, which we digitally position into the jawbone at the appropriate location to give you the most support from your replacement teeth. We can adjust the implants as need be and fabricate your new set of teeth for your needs.
The fourth step: Finally, the most important step is the oral surgery. During surgery, we will provide you with anesthesia and then place the implants directly into your jawbone to secure your new set of teeth in place.
The Benefits of All-on-4® Implants
There are many advantages to dental implants over traditional dentures. Most people choose this treatment because the appliance looks and feels more like natural teeth. Unlike traditional dentures, implants allow you to sleep with your teeth in, brush like usual, and bite down on foods that you usually have to avoid with dentures. This treatment option also prevents further bone loss in the jawbone, which can alter the appearance of the face. All-on-4 dental implants can lift sagging cheeks and lips to give you a more youthful appearance. Overall, this is an ideal treatment plan both cosmetically and for your oral health.
Find Out if You're a Candidate for Dental Implants
Contact RSN Dental PC today to schedule your consultation to discuss if you are eligible for All-on-4 dental implants. Our dentist will do a full exam and determine if you have enough bone to hold the posts, as well as other factors that must be considered before undergoing oral surgery. We look forward to hearing from you!
Schedule a Consultation
At RSN Dental PC, we can replace your teeth with this convenient and innovative procedure. To discuss the many benefits or to get started, call (347) 344-5806 and schedule an examination and consultation with our Staten Island, NY dental office.
Questions Answered on This Page
People Also Ask
Definition of Denture Terminology
Alveolar Bone

The alveolar bone is the bone surrounding the root of the tooth that keeps the tooth in place.

Clasp

A clasp is a device that holds a removable partial denture prosthesis to the teeth.

Denture Base

The denture base is the part of the denture that connects the artificial teeth with the soft tissue of the gums.

Edentulous

Edentulous is a term that applies to people who do not have any teeth.

Fixed Full Arch Restoration

A fixed full arch restoration is a common treatment option for edentulous patients who are missing either all or at least an entire arch of their teeth.

Fixed Provisional Bridge

A fixed provisional bridge is a dental bridge that a dentist cements in place for a temporary amount of time to see if it works properly before making the bridge permanent.

Full Arch Rehabilitation

Full arch rehabilitation involves using the All-on-4 ™ to help patients maintain and use a new set of teeth that look natural.

Full Arch Treatment

Full arch treatment is the treatment process of replacing an entire arch of missing teeth and ensuring that everything fits properly.

Graftless Procedure

A graftless procedure is a dental implant procedure that does not require the use of a bone graft prior to placing the dental implants.

Nobel Biocare

Nobel Biocare is a company that manufactures dental implants and continues to innovate the market with new products and designs.

Periodontal Disease

Periodontal disease is a condition that causes inflammation of the gingival tissues and membrane of the teeth, leading to tooth loss without professional treatment.

Pontic

Pontic is another term for an artificial tooth on a fixed partial denture.

Resin/Acrylic

Resin and Acrylic are resinous materials that can be components in a denture base.

Stomatitis

Stomatitis is the inflammation of the tissue that is underlying a denture that does not fit properly. It can also result from other oral health factors.
Back to top of All-on-4 Implants
Recent Posts
Dental implant placement requires a period of recovery. Understanding the expected amount of time that it takes to recover and learning useful tips on how to help your mouth heal faster are certainly helpful when preparing mentally and physically for the dental implant placement and aftercare process. Dental implants are placed into the jaw through a…
Explore additional topics covered on our website: