Dental Checkup
Staten Island, NY
If you're located in Staten Island and require a dental checkup, RSN Dental PC can help! Our team offers dental checkups for all ages, including children, teens, and adults. We help everyone achieve the smile of their dreams, one checkup at a time. So don't put your dental checkup on the back burner any longer.
Why You Need a Dental Checkup
There is a direct link between visiting the dentist and keeping your natural teeth. If you want to ensure that you have a full mouth of healthy teeth, then visit the dentist. Gallup Poll released a study in 2014 finding that the states with the highest percentage of dental visits also had the lowest percentage of adult tooth loss. For example, in Connecticut, 74 percent of adults visited the dentist in the past year, and their rate of adult tooth loss was only 9 percent. On the other hand, only 57 percent of adults in West Virginia visited the dentist in the past year, and 37 percent of adults have complete tooth loss. The correlation is clear and should prompt you to give us a call. If you do lose your teeth, we can help by providing you with replacements in the form of dental implants, bridges, or dentures. Still, there is no need for you to experience significant tooth loss when you visit our office regularly for preventative care. Saving your teeth, after all, is less time-consuming and less expensive.
Another reason to schedule a dental check-up is to make sure that you don't experience a toothache or infection. We treat patients throughout the Staten Island area and find that toothaches can create enough discomfort to cause people to miss work. In fact, according to the Center for Disease Control, 164 million work hours are lost each and every year due to dental related health issues. If you have a busy schedule and feel you do not have time for the dentist, you definitely need to schedule a dental checkup. Failing to do so could result in a more serious health condition forming and the need to take time off of work. After all, without preventative dental care, you are at a greater risk for tooth decay, infection, and gum disease.
What Happens at Your Dental Check-Up
At RSN Dental PC, we are a gentle dentist, being sure to complete your dental checkup in a way that is comfortable and relaxing. We understand that some people do not visit the dentist since they have a dental phobia or concern that something may be wrong. If this is the case, and you do have a cavity, we will treat your tooth gently and carefully so that we can address your dental health issues without causing you any further irritation.
Call Us Today to Schedule Your Checkup!
If you're behind on your dental checkups, don't put them off any longer! Call RSN Dental PC today to schedule your appointment. Checking up on your oral hygiene every six months can really make all the difference! Stay on top of your dental health and ensure you always have a smile you're proud to share!
The Benefits of Coming in Now
At RSN Dental PC, we want you to visit our dentist office at the first sign of discomfort. If you have a slight toothache or irritation in your gums, you can schedule a dental exam. If there is a problem, we can correct it immediately, rather than allowing it to grow and spread. In many cases, we can help you to avoid experiencing any significant discomfort by simply removing the decayed area while it is still small. Otherwise, you may find yourself with a dental emergency as an untreated cavity spreads. Fortunately, we make it easy to schedule a dental checkup with our Staten Island dentist office. All you need to do is call (347) 344-5806 to schedule an appointment. We will work within your schedule to ensure that you receive the care you need, when you need it.
Why You Should Stop Putting Off Your Dental Hygiene
By putting off your dental hygiene, you could be allowing an issue more time to fester. Attending your dental checkups at least once every six months will keep you and your oral hygiene in good shape. These visits help to remove any plaque or bacteria buildup and prevent your teeth from decaying. Our goal is to help you maintain healthy gums and a smile you can be proud of!
Benefits of Regular Dental Checkups
Going to a dental checkup could make all the difference in your smile. Regular checkups help our team catch signs of oral health issues early. Early detection is important for oral hygiene issues such as:
Gum disease
Cavities
Oral cancer
Plaque and tartar
Tooth decay
By scheduling regular dental checkups, you are actively taking steps to improve your overall health. Sometimes all it takes is catching the issue early enough to stop it. Early detection and prevention keeps you healthier and helps you save money in the long run.
If you live in the Staten Island area, call (347) 344-5806 to schedule your dental exam so that you can remain in good health or receive treatment for a current condition.
Questions Answered on This Page
People Also Ask
Definition of Dental Terminology
Cosmetic Dentistry

Cosmetic dentistry is generally used to refer to any dental work that improves the appearance (though not necessarily the function) of a person's teeth, gums and/or bite.

Decay

Tooth decay is when the enamel of the tooth begins to decay and cause erosion from plaque and tartar on the teeth.

Dental Caries

Dental caries are also known as cavities and result from a lack of proper oral hygiene leaving plaque that forms tiny holes in the teeth.

Dental Checkup

A dental checkup is an appointment that involves cleaning the teeth, identifying any signs of infection and removing said signs of infection at least once every six months in the office.

Dental Filling

A dental filling involves restoring the structure of the tooth by using metal, alloy, porcelain or plastic to fill the tooth.

Dental Prophylaxis

A dental prophylaxis is a professional and detailed cleaning that involves the removal of plaque, calculus and stains from the teeth.

Dental Sealants

Dental sealants contain a resinous material that we apply to the chewing surfaces of the posterior teeth to prevent dental caries.

Dentist

A dentist, also known as a dental surgeon, is a doctor who specializes in the diagnosis, prevention, and treatment of diseases and conditions of the oral cavity.

Gingivitis

Gingivitis is the inflammation of gum tissue that results from plaque, other infections in the mouth and poor oral hygiene.

Preventive Dentistry

Preventive dentistry is the dentistry that focuses on maintaining oral health in order to prevent the spread of plaque, the formation of tartar and infections in the mouth.

Tartar

Tartar forms when plaque builds up on the surface of the teeth and calcifies into a hard surface that is much more difficult to remove and will require professional treatment.

Tooth Enamel

Tooth enamel is the protective visible outer surface of a tooth that contains the dentin and dental pulp.
Back to top of Dental Checkup
Recent Posts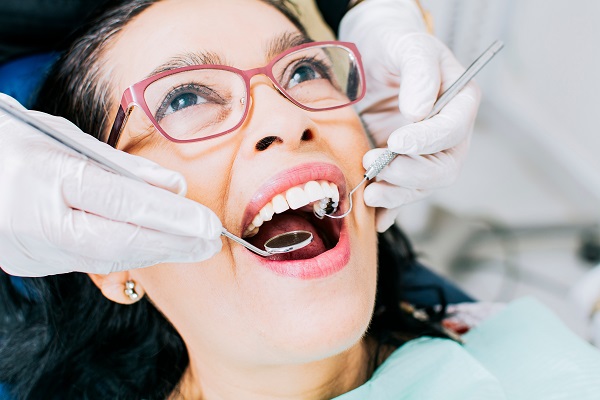 A dental checkup is one of the most important things to have done. General dentists recommend that check-ups be had at least twice a year. People of all ages should make these appointments a priority, so find out why below. Just like doctors' appointments, dentist appointments also play a crucial role in a person's overall health.…
Explore additional topics covered on our website: